Self tapping thread insert self cutting insert from b-coil product
We're here to help:
Easy ways to get the answers you need.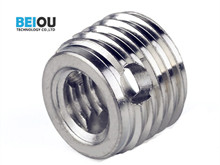 Self Tapping Inserts are cylindrical metal bushings with internal and external threads and are specially designed to cut their own threads as they are being driven into a drilled hole.
•No pre-tapping required
•Very high pull-out resistance
•Unlimited thread re-usability
•Wide variety of styles to fit almost every application

Technical parameter:(commonly used)
308
self-tapping
wlth cutting bores
Length
(mm)
External
thread
The reference hole diamter
Minimum
borehole depth
(mm)
Aluminium
alloy
Cast iron
products
M3-0.5
6
M5-0.6
4.6-4.7
4.7-4.8
8
M4-0.7
8
M6.5-0.8
6.0-6.1
6.1-6.2
10
M5-0.8
10
M8-1.0
7.4-7.5
7.6-7.7
13
M6-1.0
12
M10-1.25
9.3-9.4
9.5-9.6
15
M8-1.25
14
M12-1.5
11.1-11.3
11.3-11.5
18
M10-1.5
18
M14-1.5
13.1-13.3
13.3-13.5
22
M12-1.75
22
M16-1.75
15.0-15.3
15.3-15.5
26
M14-2.0
24
M18-2.0
17.0-17.2
17.3-17.5
28
M16-2.0
24
M20-2.0
19.0-19.2
19.3-19.5
27
Do you think what is the most important feature of thread inserts?
In terms of our existing specifications, can meet your requirements?
We welcome all the customers to visit our factory.
Please contact us if you have any question about threaded inserts.
We're here to help
Please complete the fields below and we will respond to your inquiry within 24 hours.